---
The INTER-SOL Programme (ISP)

Indroduction and Purposes
---


The INTER-SOL Programme (ISP) was established by Mr Reinhard Wiechoczek - also founder of the Public Observatory Paderborn - in 1977 after several preparatory tests during 1976.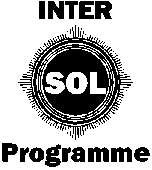 Surveying the different sunspot phenomena, IS (INTER-SOL Index) should give more detailed information about the solar activity than the common international SIDC (Brussels) which is deriving just one concluding sunspot number "R".

IS should be comparable to terrestrial statistics of any kind for possible research of solar-terrestrial phenomena. The task of ISP is to draw up a document of the solar activity. Since most of the terrestrial statistics dealing with all aspects of life are based on monthly or yearly terms, the IS data are smoothed to means out of three terrestrial months.

The INTER-SOL Programme is also a fascinating project of close collaboration between amateurs and professionals around the globe. The intention is to extend a network of active solar observers in all continents.

Facing all the giant scientific investigations - earth-bound as well as operating in space - we have to be aware of the fact that ISP does not have a professional but a serious amateur character.
---
Copyright © 2000/... by Volkssternwarte Paderborn e.V., Germany. All rights reserved.
---